The Leather Cube package offers a turn key lighting and grip solution for small productions at an affordable price. Much like the Swiss Army Package, the Leather package comes equipped with lighting and grip carts to get your shoot running as quickly as possible. Provided in a cube form, this package truck allows your team the ability to transport extra 2D House gear to set for an additional fee. Our package trucks are always sent with a 2D House Driver so you know the vehicle and equipment will be handled with care from start to finish. Please review our Package Truck Policies and Procedures document for more information.
Noteworthy Details:
Driver base rate = $300/day (minimum 10+1 hour day)
Includes 100 km of mileage

A fee of $0.35/km applies after 100 km traveled
Overtime is calculated in 30 minute increments after the 10th hour of work; 1.5x OT from Work Hours 10-12; 2x from Work Hours 12-14; 3x from Work Hours 14+
Meal Penalty: The 1st hour of meal penalty is billed at (2x) times the prevailing rate for work performed in excess of 6 hours from Call (not from Travel). The 2nd hour of meal penalty is billed at triple time (3x) and continue until a meal break is provided. This penalty is calculated in 30 minute segments and does not exceed 3x rate.

Grip expendables are available for purchase on all 2D vehicles
Looking to transport extra 2D equipment on the cube? Ask us about our extra cargo rate options!
Think the Leather Cube would be the right fit for your next production?
Rental Rates
: $800 + HST
: $300 + HST
: $400 + HST


Additional Cargo Fee (Optional): $50 - $400 + HST (depending on items being added)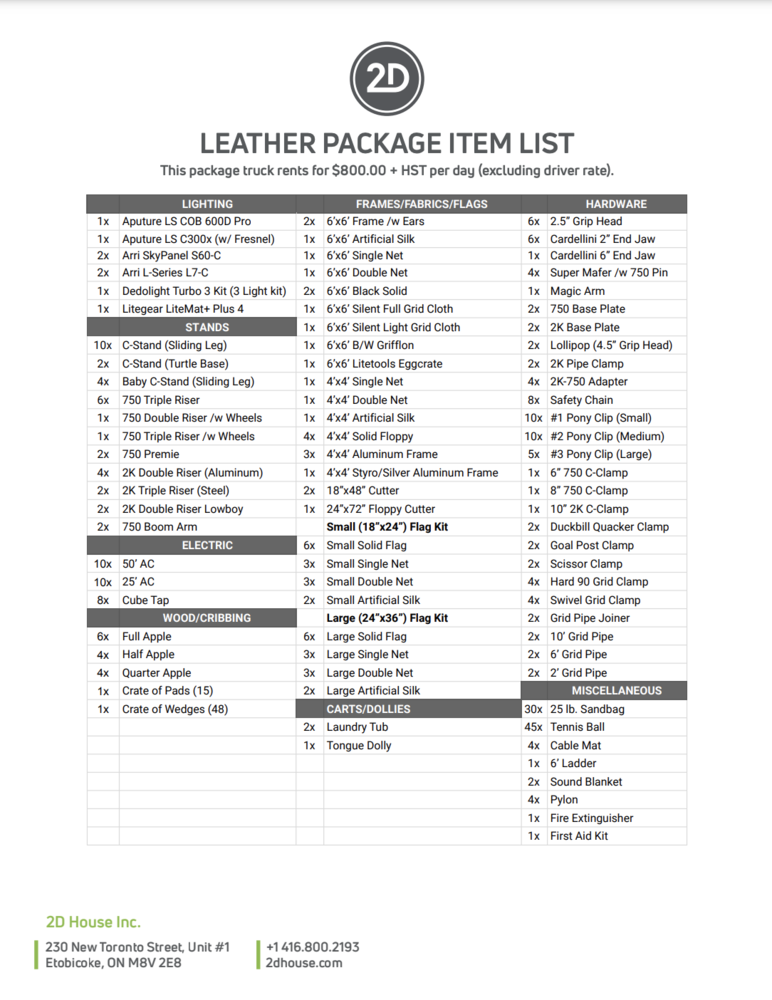 | | | | | | |
| --- | --- | --- | --- | --- | --- |
| | LIGHTING | | FRAMES/FABRICS/FLAGS | | HARDWARE |
| 2x | SkyPanel S60-C | 2x | 6'x6' Frame /w Ears | 6x | 2.5" Grip Head |
| 2x | L-Series L7-C | 1x | 6'x6' Silk | 6x | Cardellini 2" End Jaw |
| 1x | LS C300x w/ Fresnel | 1x | 6'x6' Single Net | 1x | Cardellini 6" End Jaw |
| 1x | Dedolight Turbo 3 (3 Light Kit) | 1x | 6'x6' Double Net | 4x | Super Mafer /w 750 Pin |
| 1x | LiteMat+ Plus 4 | 2x | 6'x6' Solid | 1x | Magic Arm |
| 1x | LS 600D w/ Fresnel | 1x | 6'x6' Silent Full Grid Cloth | 2x | 750 Base Plate |
| | STANDS | 1x | 6'x6' Silent Lite Grid Cloth | 2x | Lollipop (4.5" Grip Head) |
| 10x | C-Stand (Sliding Leg) | 1x | 6'x6' B/W Grifflon | 2x | 2K Base Plate |
| 2x | C-Stand (Turtle Base) | 1x | 6'x6' Litetools Eggcrate | 2x | 2K Pipe Clamp |
| 4x | Baby C-Stand (Sliding Leg) | 1x | 4'x4' Single Net | 4x | 2K-750 Adapter |
| 6x | 750 Triple Riser | 1x | 4'x4' Double Net | 8x | Safety Chain |
| 1x | 750 Double Riser /w Wheels | 1x | 4'x4' Silk | 10x | #1 Pony Clip (Small) |
| 1x | 750 Triple Riser /w Wheels | 4x | 4'x4' Floppy | 10x | #2 Pony Clip (Medium) |
| 2x | 750 Premie | 3x | 4'x4' Aluminum Frame | 5x | #3 Pony Clip (Large) |
| 4x | 2K Double Riser (Aluminum) | 1x | 4'x4' Styro/ Silver Aluminum Frame | 2x | 3" C-Clamp |
| 2x | 2K Triple Riser (Steel) | 2x | 18"x48" Cutter | 2x | 6" C-Clamp |
| 2x | 2K Lowboy | 1x | 24"x72" Floppy Cutter | 2x | Duckbill Clamp |
| 2x | 750 Boom Arm | | Small (18"x24") Flag Kit | 2x | Goal Post Clamp |
| | ELECTRIC | 6x | Small Flag | 2x | Scissor Clamp |
| 10x | 50' AC | 3x | Small Single Net | 4x | Hard 90 Grid Clamp |
| 10x | 25' AC | 3x | Small Double Net | 4x | Swivel Grid Clamp |
| 8x | Cube Tap | 2x | Small Silk | 2x | Grid Pipe Joiner |
| | WOOD/CRIBBING | | Large (24"x36") Flag Kit | 2x | 10' Grid Pipe |
| 6x | Full Apple | 6x | Large Flag | 2x | 6' Grid Pipe |
| 4x | Half Apple | 3x | Large Single Net | 2x | 2' Grid Pipe |
| 4x | Quarter Apple | 3x | Large Double Net | | MISCELLANEOUS |
| 1x | Crate of Pads (15) | 2x | Large Silk | 30x | 25 lb. Sandbag |
| 1x | Crate of Wedges (48) | | CARTS/DOLLIES | 45x | Tennis Ball |
| | | 2x | Laundry Tub | 4x | Cable Mat |
| | | 1x | Tongue Dolly | 1x | 6' Ladder |
| | | | | 2x | Sound Blanket |
| | | | | 4x | Pylon |
| | | | | 1x | Fire Extinguisher |
'